By Hiroko Kelly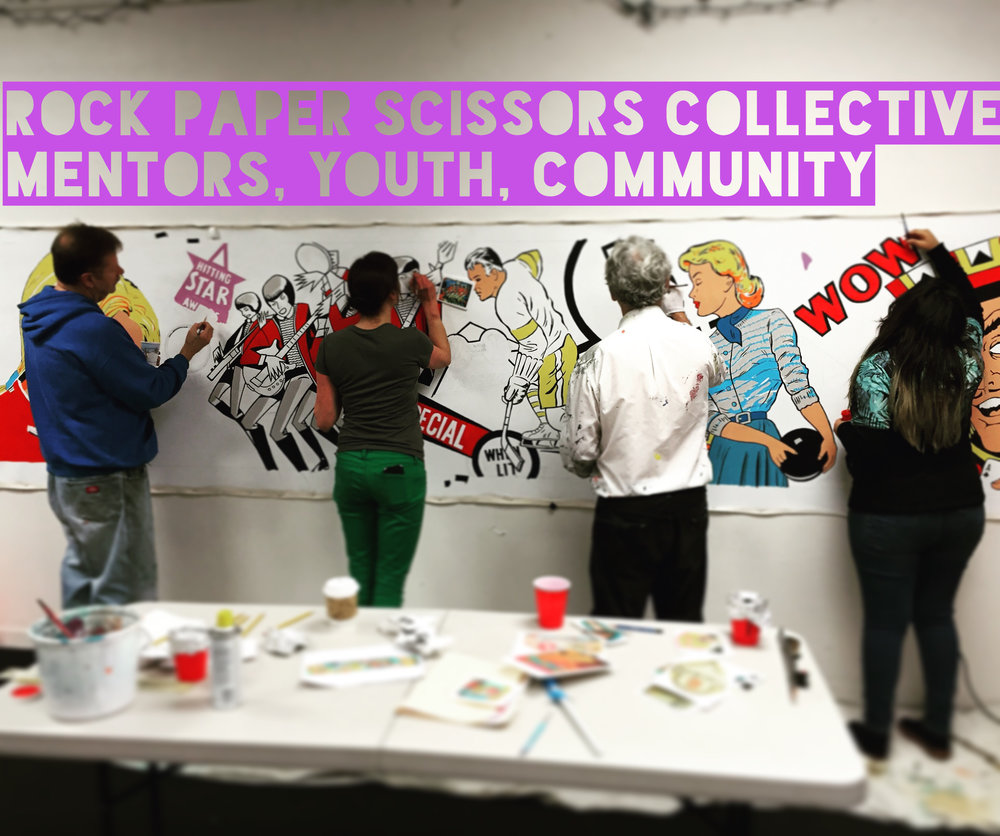 It feels wrong to not have a living archive documenting the resilient arts scene in Oakland and not mention Rock Paper Scissors Collective (RPSC). With nearly 20 years in Oakland, RPSC has inhabited many parts of the city, oftentimes being displaced only to find a new footing in another part of town. I had the opportunity to meet with some influential members of their collective a few weeks ago. During our various conversations big questions arose like "What does it mean to make unquantifiable art in a capitalistic society?" and "How do we build community using art?" but ultimately, I left questioning— Who has staying power? And what makes an organization so resilient? 
It seems that with 17 years of consistent arts programming, Rock Paper Scissors Collective might have the answer. Having navigated through both tech booms and now the COVID-19 pandemic, RPSC stands strong despite other, longer established arts organizations in Oakland falling. RPSC first began off Telegraph Avenue by co-founding the 23rd Street Fair (which later became First Fridays), where they called this location home for many years until they were displaced to Flight Deck, the West Oakland Library Branch and Warehouse 416 before ending up where they are today in uptown off of MLK Jr. Blvd.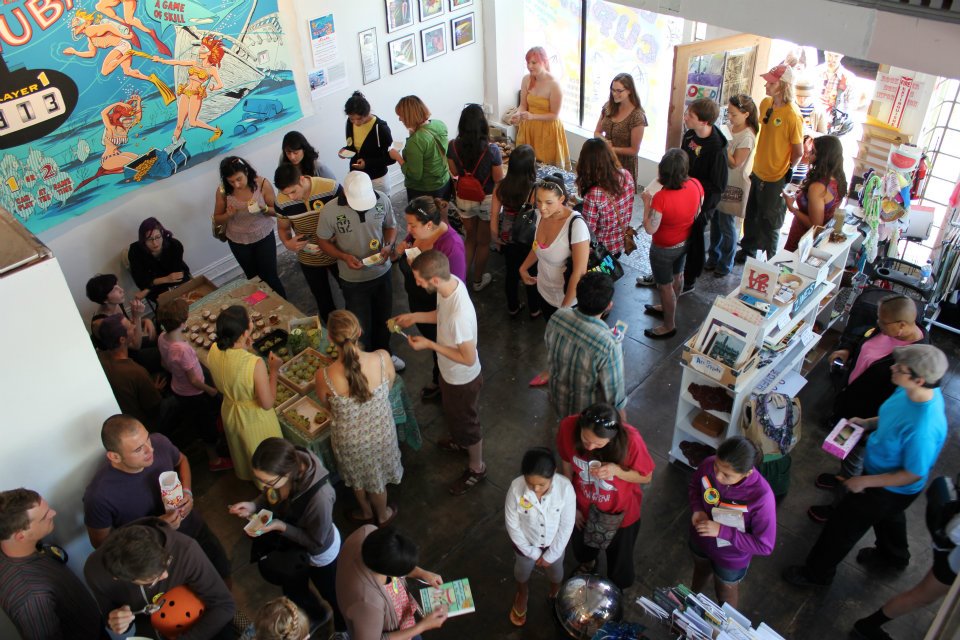 Today, RPSC is composed of 7-8 volunteer members and a supportive Board of Directors who lead their own respective departments within the organization. Within each department there is a coordinating team which is either composed of other RPSC members or volunteers. The organization practices a consensus-based system, with many members also being a part of the board of directors, in doing so they have set up a system in which the board can never overpower the members. This sort of organizational structure speaks to the values in place behind the organization — being non-hierarchical. As I talked with Kristi Holohan, a long-term member and current board member of RPSC, they kept circling back to how the organization is a non-hierarchical model, meaning that they aim to keep a lateral platform made up of extremely dedicated volunteers. Within this lateral model the organization's work is geared towards community. Kristi states,
"I think [that generally] a lot of organizations are insular based, and they do a lot, which is great…but our organization's mission is building community through our art, craft, skill share and performance. We're external to the common good, engaging with community. [And questioning] how do we build community using these tools?"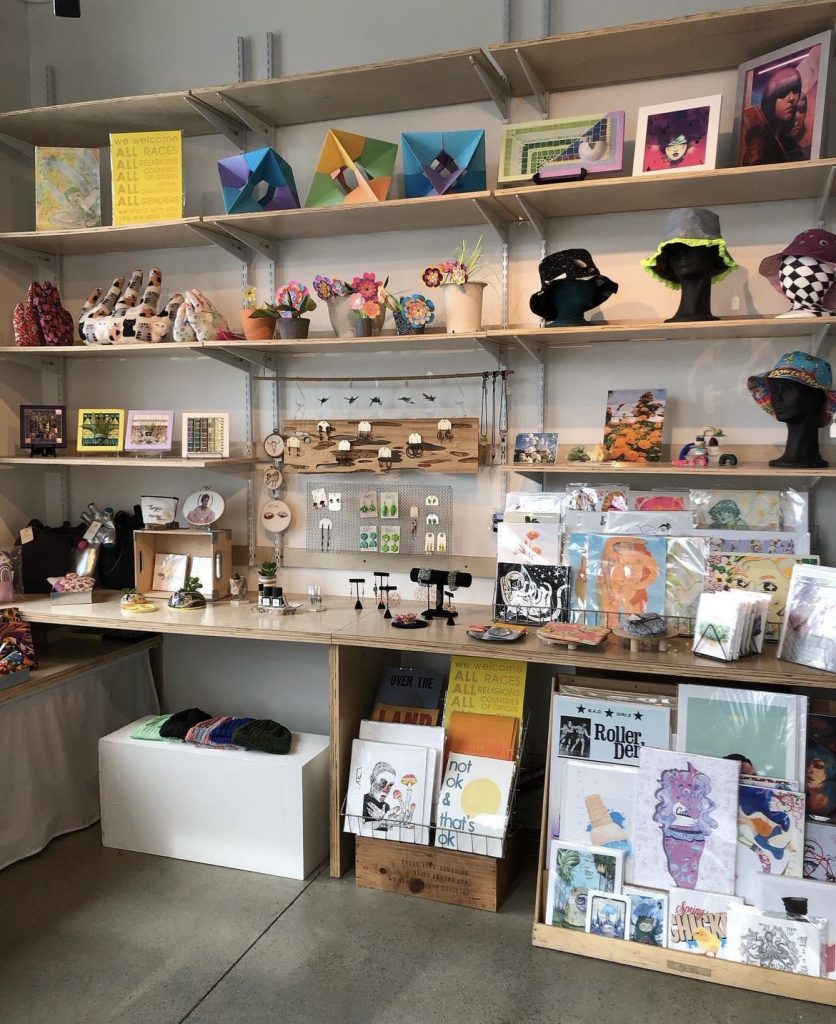 With this model they operate as a truly a multifaceted arts organization, with a gallery space, a small retail store, a zine library (at one point one of the largest on the West Coast), and a community space offering workshops of all kinds, with each of these aspects boasting Oakland-based artists first and foremost. A quality that RPSC holds dear is the hyper locality of the platform and the way they find themselves dedicated to the Oakland arts scene in building community. Community becomes the anchor of their work as they strive to care for their city and while more and more spaces that once facilitated the community building of Oakland disappear, RSPC still stands, caring for the community so seamlessly.
Perhaps it is just in their nature or perhaps by this point it is so deeply embedded into the ethos of the platform. This is seen through the intentionality behind the design of the space from its proximity to public transportation to their wheelchair accessibility to their incorporation of ASL into their events and workshops. Another aspect important and dear to the organization, that aids in their cultivation of community is the fact that they are not insular but strive to work and co-collaborate outside of their space with others who share their passion for community. Even despite the ever-changing Oakland, RPSC strives to tap into the culture, the origins of the city to keep servicing the community through art practice. Nic De La Paz, another influential member of RPSC, commented,
" I believe that there's still hope for Oakland to reclaim its status as a city with a thriving artist population. Oakland has a long history of arts activism and community organizing. It is my hope that we can tap into that rebellious lifeblood and, through organizations like RPSC and others, build a stronger, healthier Oakland arts community."
I think the thing that remains the most unconventional about RPSC is that they operate beyond a traditional art gallery model. They are dedicated to working with unquantifiable methods of engagement, which is seen through their intentional curation of the space and by being radically inclusive. Within this alternative model they have found something that has been proven to be resilient and utterly sincere. A large part of these community building efforts is to keep workshops happening, even as the pandemic abates (or not so much), with their next workshop being a zine embroidering workshop on Friday, January 20th at 5:30pm. There is also an open call to artists for their next exhibition: SPACE, deadline is Friday January 20th. They are continuing their collaboration with Oakland Public Library on February 12th with a Valentine's Day card making workshop. Also returning in February will be Gay Chess Club, for those that wish to learn and play chess in a queer-friendly space. Aside from these the gallery remains open to the public Thursdays from 4-7 pm, Fridays from 2-7pm, and Saturdays from 1-5pm.
__________________________________________________________________________
Hiroko Kelly is a biracial woman from the Deep South, who has found herself with a desire to create art that represents hybridity, fluidity of life, and how these can nuance identity. As a first generation Japanese-American, she has found a yearning for nomadic forms that reflect the swaths of distance covered by her ancestors.She believes in the limitlessness and the power that comes when you cast away assumptions about the body and identity, and the catalyst it creates in public spheres through movement that helps us collectively find joy, light, love throughout our lives. Hiroko translates these values into work as a moving artist, choreographer, painter, and mixed-media sculptor. She has received her BA from Kennesaw State University in dance in 2017 and is currently working towards earning a MA in Urban and Public Affairs at the University of San Francisco.
Images courtesy of Rock Paper Scissors Collective