By Malcolm Ryder
As of this writing, the Kehinde Wiley show at San Francisco's de Young Museum is the biggest show of Black art in the area.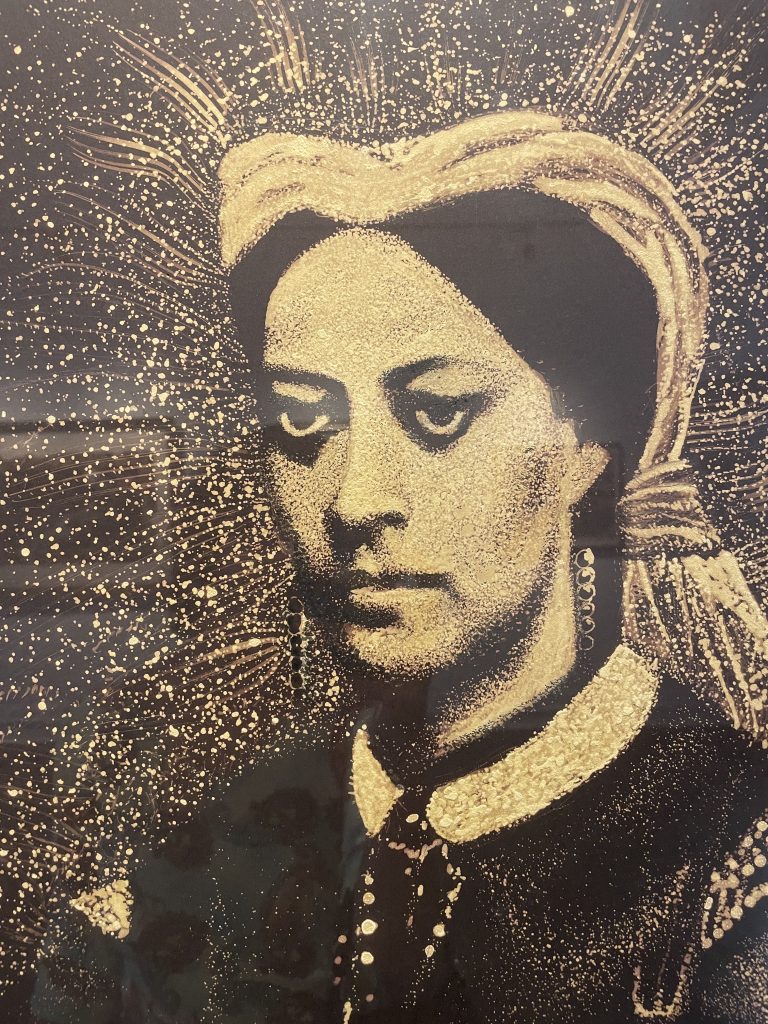 But in the East Bay, at Joyce Gordon Gallery, the current 3X3 Summer Solos may be the smallest. It comes as part of the gallery's 20th year in operation. Black- and Woman-owned, it is commercially committed to cultural diversity, and that continuity speaks very highly of the gallery's role and importance to the potential for many Black artists to gain the audience they deserve.
History is about remembering, and celebrating the memory takes on a variety limited only by the inventiveness and skill of the celebrator. In the series The Renderings of the Diaspora, writer turned painter TheArthur Wright fortifies his selectivity in whom to celebrate with a dramatically original technique, one that gets his images emanating their light by drawing with bleach on rich dark backgrounds. The darkness is very much the same as the space of the night sky or the unlit parts of a stage, where the viewer's own associations of memory, imagination or meaning naturally but quietly fill in. The technique has reached its level of quality from years of Wright teaching himself about what his unusual materials will do. His resulting style takes on the character of a distinctive voice that engages us much as we might love certain different singers interpreting the same song.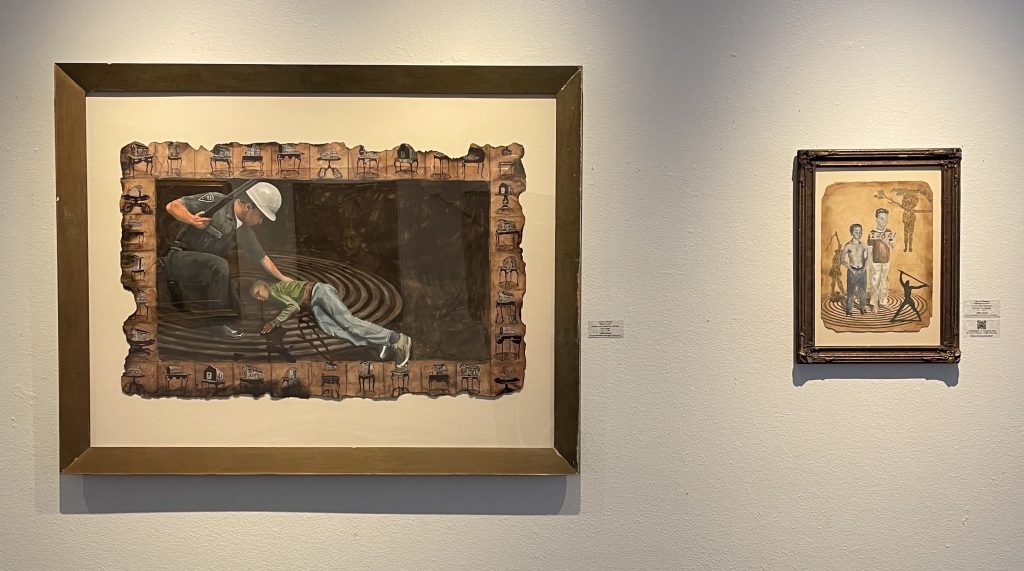 The heavily promoted Wiley show aims to fire up wide-spread awareness of the pervasiveness of anti-Black violence. But at Joyce Gordon Gallery, Fan Lee Warren's Looking Back series is extremely evocative of the subject and includes two pieces that are arguably as powerful, if not more so, as anything at the de Young. Portraying a scene of a slaying that is a story both hundreds of years old and as fresh as a month ago, she frames the scene with a border of repeating images presenting longstanding archetypal dwellings that appear to represent home, work, faith and community, none however able to prevent the cold violence magnified by the center of the painting. It generates a tension between the triumph of perseverance and the horror of its cost.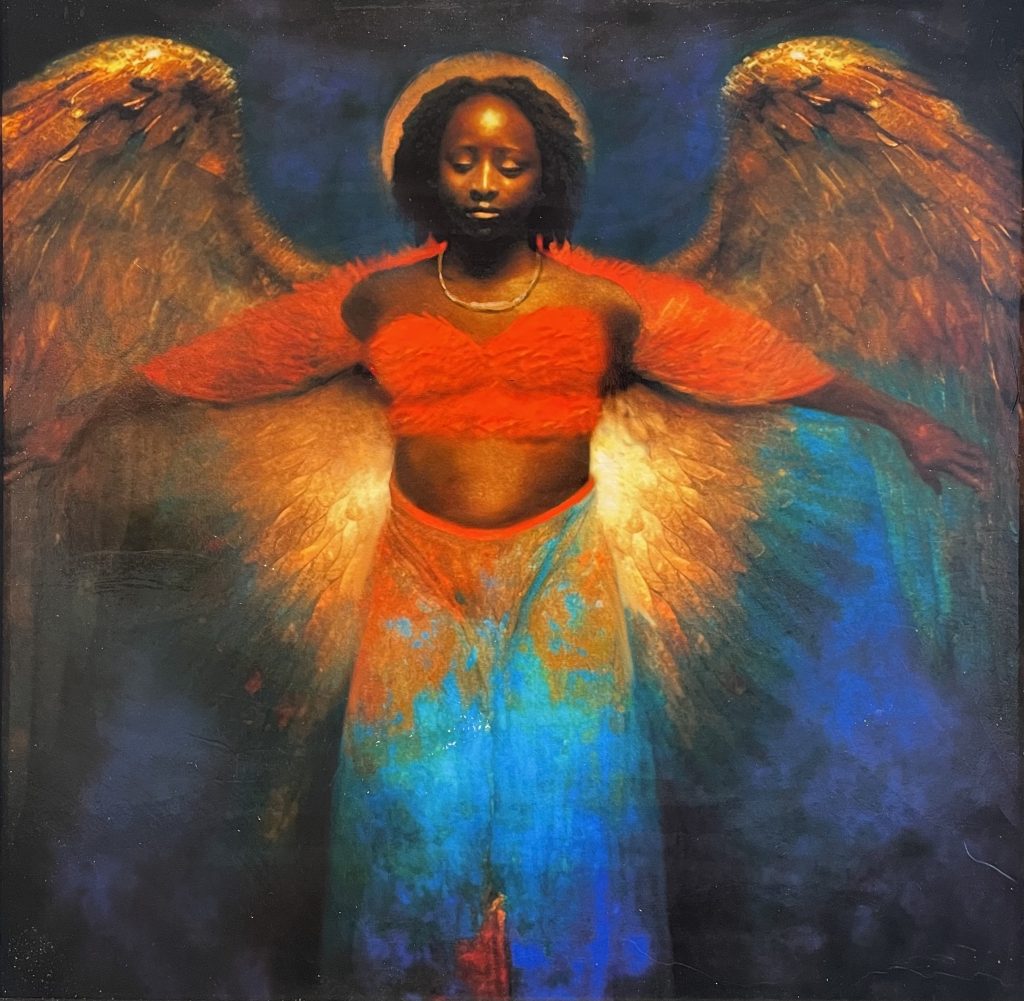 The third artist, David Bruce Graves, frankly explores variations on his theme of Better Angels, with the hope of every viewer finding a variant that inspires. Among his pieces, Graves uses numerous styles to convey his message of the world we inhabit being populated by benevolent spirits. An important decision is to have the works portray angels in an ethereal space, helping to keep them clearly in the foreground where they present themselves as entirely reachable and welcoming. In that approach, he is careful to not make their space feel disconnected from us but instead shared by us. While some of the pictures have a crisp graphical feel of age-old iconography, others seem more modern. But the piece shown on the show's postcard is possibly most compelling of them all, its angel "coming into focus" as if it was revealing itself to us, confirming our hope, for the first time.
3X3 Summer Solos, curated by Eric Murphy, is on view at Joyce Gordon Gallery through July 29, 2023. Hours of Operation: Wed – Sat. 1 – 6pm at 406 14th St. Oakland, Ca. 94612
_________________________________________________________________________________________________________________
Malcolm Ryder, Oakland resident and artist, is a fine arts and commercial photographer and writer with 40 years experience in practice creating, teaching, and critiquing visual art as well as developing and managing arts organizations for visual artists. He is a graduate of Princeton University; a former programming developer and director at the NEA, NYSCA and NYFA; and former board member of arts non-profits in SF and Berkeley. His current art work, exhibiting in shows across the Bay Area since June 2022, is also published online at www.malcolmryder.com and at the home site of the multi-year collaborative art project Oaktown, at www.oaktown.pictures.
---