By Mario Hernandez
In April of this year, Compound Gallery celebrated their 15 year anniversary along with the grand opening of their new facility in Emeryville. Moving from their Oakland location, the massive 14,000 sq ft. space will function as artist studios and workshops, as well as an adjoining 3000 sq. ft. retail store and gallery space. Compound joins a variety of art spaces in the area including Osceola Gallery, The Kala Art Institute, Living Art Playback Theatre and many others. Combined with an artistic legacy that includes Mud Flat Arts, the space adds to the city's thriving cultural arts scene. Compound Gallery is unique in the broad array of artistic mediums it caters to, serving as an incubator and networking hub for artists. I took time to speak with the owners, Matt and Lena Reynoso, to get a sense of their motivation behind the space and to think about its significance for the city and creative arts in the Bay Area more generally.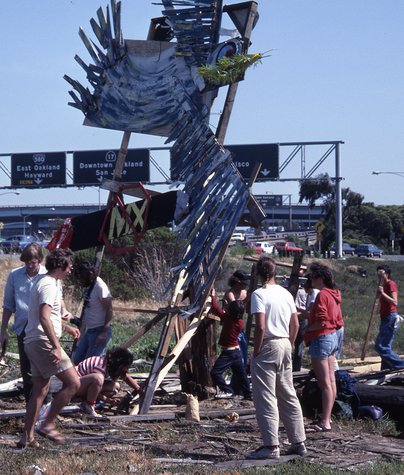 The husband and wife duo founded Compound gallery in 2008, out of finding a passion in building out their own studio space. As they put it, "we discovered our love for creating workspaces and have been organically (and fanatically) growing the space since. We also love being able to foster and provide a fully equipped creative atmosphere for artists to express themselves." With regard to the idea of an integrative approach to the kinds of art practices they cater to as well as offering studios, workshop and gallery spaces, they stated, "we believe art shouldn't be made in a bubble but should be shared and engaged with people and the larger goings on of society/economy. An artist's creations should be given the respect and time of a dedicated space to showcase the work."  Both artists in their own right, Matt works in a variety of mediums, including painting, printmaking, wood /metal  mural and sculptural installations. A love for craft and the handmade informs his work. Larger mural/installation gigs are partnered with longstanding Compound studio artist Eric Sanchez as "Indubitable Design." Lena is an artist, antiquarian and scholar. As an artist, she works in a variety of mediums as well, including printmaking, painting, and mixed media. She is a published author and her writing and art has appeared in a variety of media outlets including E! Online, Gawker, and Oakland Magazine.
After moving to the Bay Area in 2001, they originally opened Compound Gallery in a former liquor store on 65th Street in Oakland, where they worked assiduously to improve the building on their own. They received notoriety from a variety of awards, including Best Studio Complex by East Bay Express in 2015 and for their "Art in a Box" subscription service, which shipped local artwork around the world. After a prolonged stint of bad experiences with landlords and building owners, the couple moved into their current location in Emeryville during the pandemic.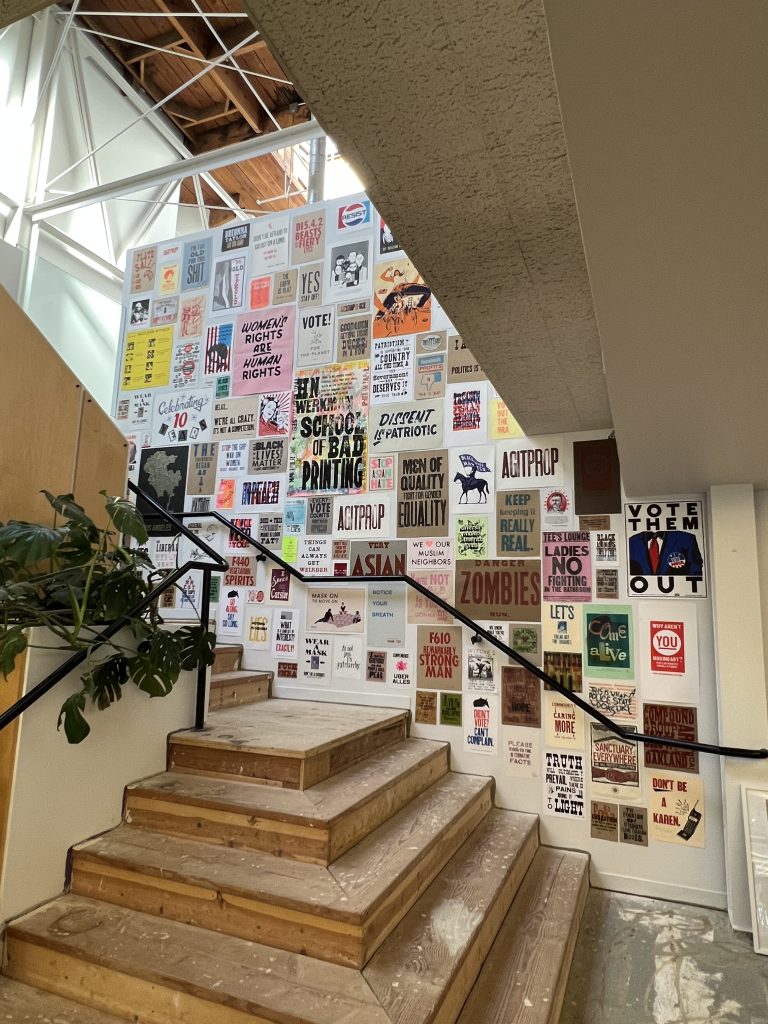 According to the Emeryville Historical Society, the entire block on which their new facility sits was owned by Associated Oil Company and their space was leased to the International Harvester Company. The company's "Emeryville Works" location was labeled as a "machine shop" on public records. As the Historical Society explained,  Harvester was famous for tractor manufacturing, one of which was named the "The Emeryville". But as the company faced hard times and industries fled the area in the 1960s, this location, like many of Emeryville's warehouses, was left vacant. The space was later occupied by artists and makers in the 1970s and 1980s. Matt and Lena believe that the space was purchased and renovated in the late 80s to its current mixed use. 
Today, the massive facility hosts 27 studios that vary in size along with the  gallery, retail store and a print shop. But while such mixed use spaces are fairly common, what separates Compound's location are the array of creative workshops and stations. From sewing machines, to woodworking tools, 3D printers, laser cutters and photography equipment; kilns and a print shop, the space caters to a wide variety of creative interests and specializations. The facility also has a reference library in one of multiple common areas that lends to the space functioning as a little art school ("minus the school"), as part owner and founder Matt has described it. (Bishop). 
The space is open 24 hours a day, 7 days a week to serve a variety of schedules and creative patterns. And with multiple common and lounge areas for social events, the space  also functions as a creative networking hub in the neighborhood. As Matt put it, "We moved to Emeryville because we felt it was a good fit for the realization of our vision for the space. Emeryville has a lot going, a long history of tech and innovation and a history of artists and makers living and working there. We love that the new gallery and studio space is in the same neighborhood as groundbreaking bio tech and thinkers. Art and science coexisting." And Lena has noted, "We think we've survived, in part, because we're driven to create something bigger than ourselves". On a final and important note, the couple note that the city has been supportive and welcoming of their vision and plan.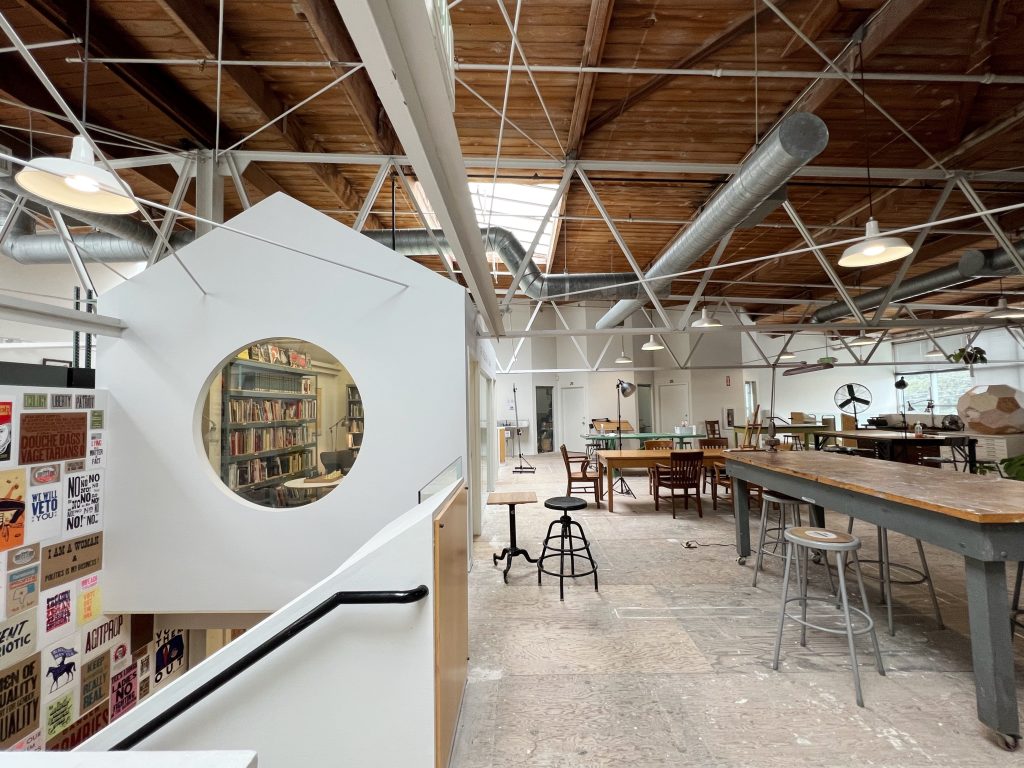 Urban scholars have analyzed the importance of the creative arts in cities for some time now. As urban planning professor Elizabeth Currid-Halkett has noted (among others), we tend to think of art and culture as fun or leisure activities and less about the underlying industries that drive them and the economic impact they have more generally. In her book The Warhol Economy, she writes:
"…policymakers and urban economists are versed in the mechanics of urban economies or how we think cities work, the role of art and culture is left out of this basic paradigm of city growth and vitality, why some cities are more or less successful than others, and what components are necessary to generate great, vibrant places where people want to live."
According to the Otis College Report on the Creative Economy, the Bay Area has one of the largest creative economies in the state. Between 2018 and 2021, the report found that "The Bay Area [was] one of only two regions where growth in the creative economy outperformed growth in the overall economy". Creative industries have been instrumental in revitalizing areas such as Emeryville's. Once known as "rotten city" due to the amount of speakeasies in the area during prohibition, and as a manufacturing hub throughout much of the twentieth century, today, as the San Francisco Business Times puts it, "Emeryville is known as much for its artistic inspirations as its research labs". It goes on further, "Public art graces city thoroughfares and the city embraces its creative businesses, including household names such as Pixar and Peet's Coffee. The city is fertile ground for a thriving technological sector, with companies like Ayar Labs and Bolt Threads finding sustainable paths for computing and fashion, and where Grifols, Zymergen, and Dynavax advance the life sciences. Business leaders appreciate that Emeryville's creative environment supports scientific discovery leading to commercial applications." As the city puts it, "Emeryville is home to hundreds of artists and musicians working in traditional mediums as well as digital, film, and sound art. There are currently over 50 publicly-owned art works in the city and over 200 art installations available to the public…"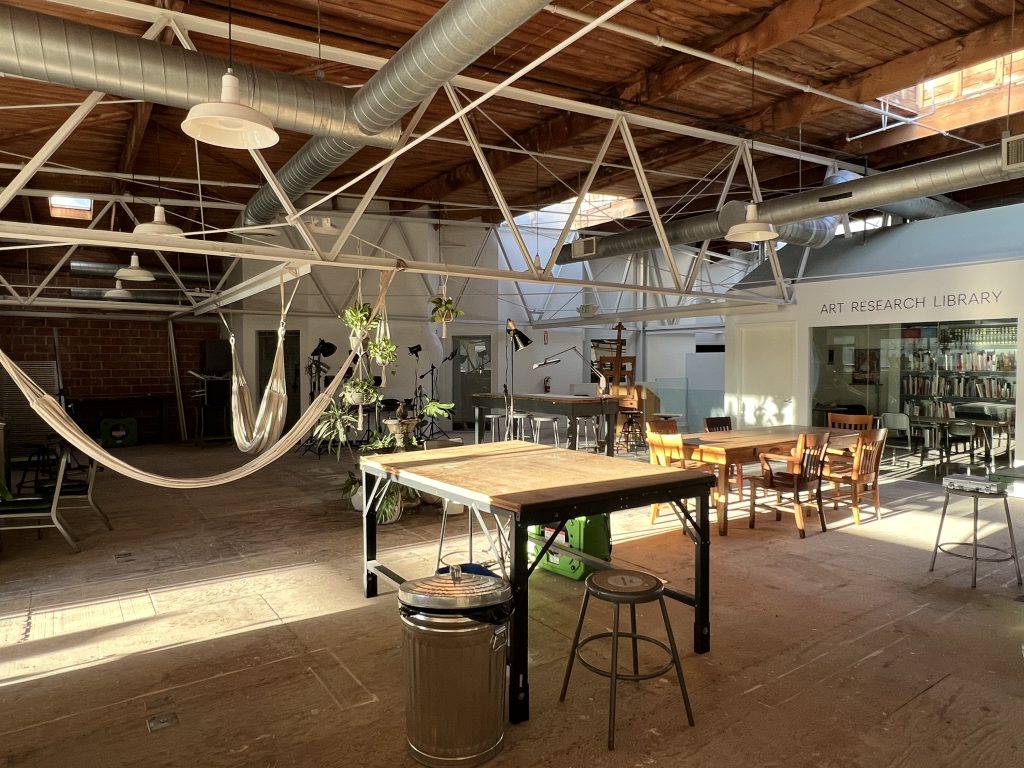 Emeryville was able to make this transition through proactive measures on the part of a variety of stakeholders including the city itself (such as the Art in Public Places Program) the state (through the California Arts Council) and a group of local partners such as Pixar Animation Studios, Emeryville Celebration of the Arts, Wareham Development, 45th Street Artists Cooperative and Compound Gallery". Their efforts have helped "to grow, incubate, and fuse" what is now called the Rotten City Cultural District. 
But none of this would be possible if artists and innovators didn't create the initial vision for such an alternative. This began with artists laying the groundwork when heavy industry started moving out of manufacturing spaces in the 1960s and 1970s, and they began renovating and using such spaces for studios, events and gallery spaces. Such "adaptive repurposing" of such buildings was done by the artists themselves (often referred to as "sweat equity") and reimagined what such spaces could be. As Steward Brand, author of How Buildings Learn, puts it, "new ideas must come from old buildings". This spirit continues today with artists such as Matt and Lena Reynoso at the forefront of reimagining spaces and possibilities.
DON'T MISS
Demolition in Emeryville: A Decade of Destruction, 1990 – 2000, Oakland Public Library
By 1990, Emeryville's industrial age had come to an end. During the 1990s numerous factories and warehouses were destroyed to make room for new development. The Demolition in Emeryville exhibit, presented by the Emeryville Historical Society, is a vivid photographic record of this cataclysmic decade. 
On view through September 30, 2023
________________________________________________________________
Mario Hernandez is an assistant professor and Fletcher Jones program chair of Sociology in the Department of Social and Historical Studies at Mills College at Northeastern University. Hernandez is an urban sociologist who specializes in the study of gentrification. His book, Bushwick's Bohemia: Art and Revitalization in Gentrifying Brooklyn, examines the proliferation of the creative art scene in the neighborhood of Bushwick in Brooklyn, New York within the context of neoliberal strategies of urban growth, including city branding. Dr. Hernandez's research examines the increasing importance of creative industries to urban economies and the vital role of artists and art scenes in this process. Hernandez is born and raised in the Bay Area, and currently resides in Oakland.
Image Credits:
Compound Gallery Workspace, Courtesy of The Compound Gallery and Studios
Mudflat Arts, Courtesy of The CCA Library
The Compound Gallery, Courtesy of The Compound Gallery and Studios
The Compound Gallery, Courtesy of The Compound Gallery and Studios
Compound Gallery Communal Workspace, Courtesy of The Compound Gallery and Studios