By Calder Anderson
Oakland is known for its radical resistance to inequality, its strong sense of community, and its ability to envision better futures for its people. The city's art scene is no different. Oakland is home to a refreshing and authentic artist community that ceases to give in to the hierarchy of the art world. Oakland's art is accessible, experimental, collaborative, and thriving against the city's limiting factors. The crushing impacts of gentrification and rising cost of living have systematically pushed artists further and further out of city centers, and, despite this, Oakland's creative community continues to find ways to make space for art. One such way is found in Oakland's collective art spaces.
An artist collective is an initiative that is the result of a group of artists working together, usually under their own management, towards shared aims. Famous collectives include The Guerrilla Girls, the 1960s Los Angeles Fluxus Group, and AfroCOBRA – each established to address inequity and redefine limiting structures in the art world [1]. Though ostracized at the time, each group contributed to radical thought and necessary shifts in our cultural landscape. Oakland and its people have built art spaces with similar aims.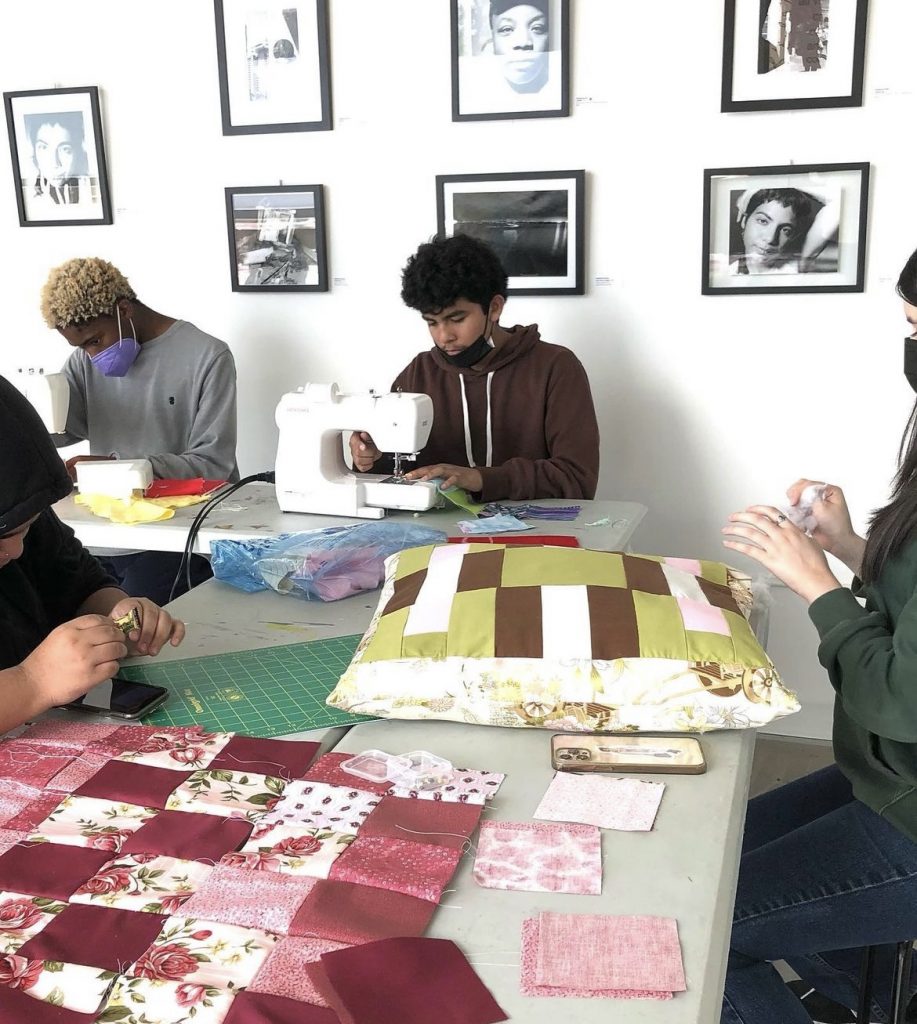 Rock Paper Scissors Collective has been a pillar of Oakland's arts community for almost 20 years. The collective was formed in 2004 and soon after co-founded Oakland Art Murmur in 2005. Rock Paper Scissors operates under the belief that access to the arts is essential for all. Over the last two decades, they have hosted countless exhibitions, workshops, community events, and youth programming including an accessibility program that provides ASL and deafblind interpretation for events with intergenerational and multi-racial components. All of which are realized through non-hierarchical and consensus-based organizing within their collective team.
Recently, Rock Paper Scissors Collective launched their "Neighborhood Voices" program that invites residents in the collective's neighborhood (located on MLK Jr. Way in Oakland) to participate in workshops, make artwork, and exhibit work in the gallery space. The program is free of cost and inclusive, working closely with veterans, neighbors, and seniors in the area. The program is emblematic of the collective model's mission of making art accessible to all in pursuit of a thriving and connected community.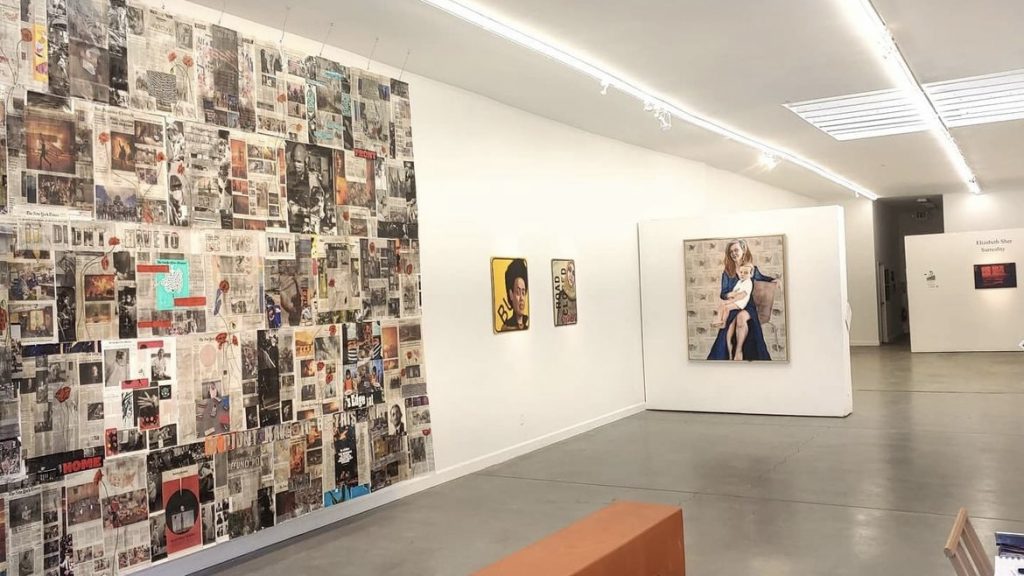 Mercury 20 Gallery, another collective space in Oakland, was founded roughly 16 years ago in the summer of 2006 after the recent success of Oakland Art Murmur. The collective was formed by a group of local artists in the West Grand Corridor next to neighbors Front Gallery and IndustriElle – all of whom began attracting crowds during Oakland Art Murmur's 'Art Walk.' The space, now located on Oakland's 25th Street, acts not only as an artist collective but also as a fully functioning gallery that hosts monthly rotating exhibitions that feature their member artists. The gallery is run solely by its 20 members who work collectively to manage the space – each assigned responsibilities necessary to keep the program running smoothly. They do so in pursuit of common goals: to make space for artists, exhibit artwork freely, and build community.
When speaking with founding artist member Kathleen King, she describes the sense of community within the collective as an invaluable benefit. She explains that artists can sometimes be isolated, working alone in a studio or home space. Though this is necessary and viable for some artists, there are others who seek dialogue with other creatives and feel a great sense of support in working towards a shared vision. King explains, "we all kind of understand each other – we want to show our art and thrive as working artists. This holds us together."
Moments Cooperative and Community Space is a new and welcomed addition to Oakland's arts community. Moments Co-op was founded in 2021 to "provide much-needed physical space and community support for low-income artists and creators, unhoused neighbors, Black, brown, queer and trans communities in the Bay Area."
Located on 13th Street in Downtown Oakland, the cooperative has created a community pantry and closet that provides food, clothes, and information to the community. Their space is home to a library of literature written by QTBIPOC and radical authors that offer critical perspectives on art, politics, and culture. Moments' organizing principles (listed on their website) summarize both the rich history of collective and cooperative space as well as a radical and hopeful future.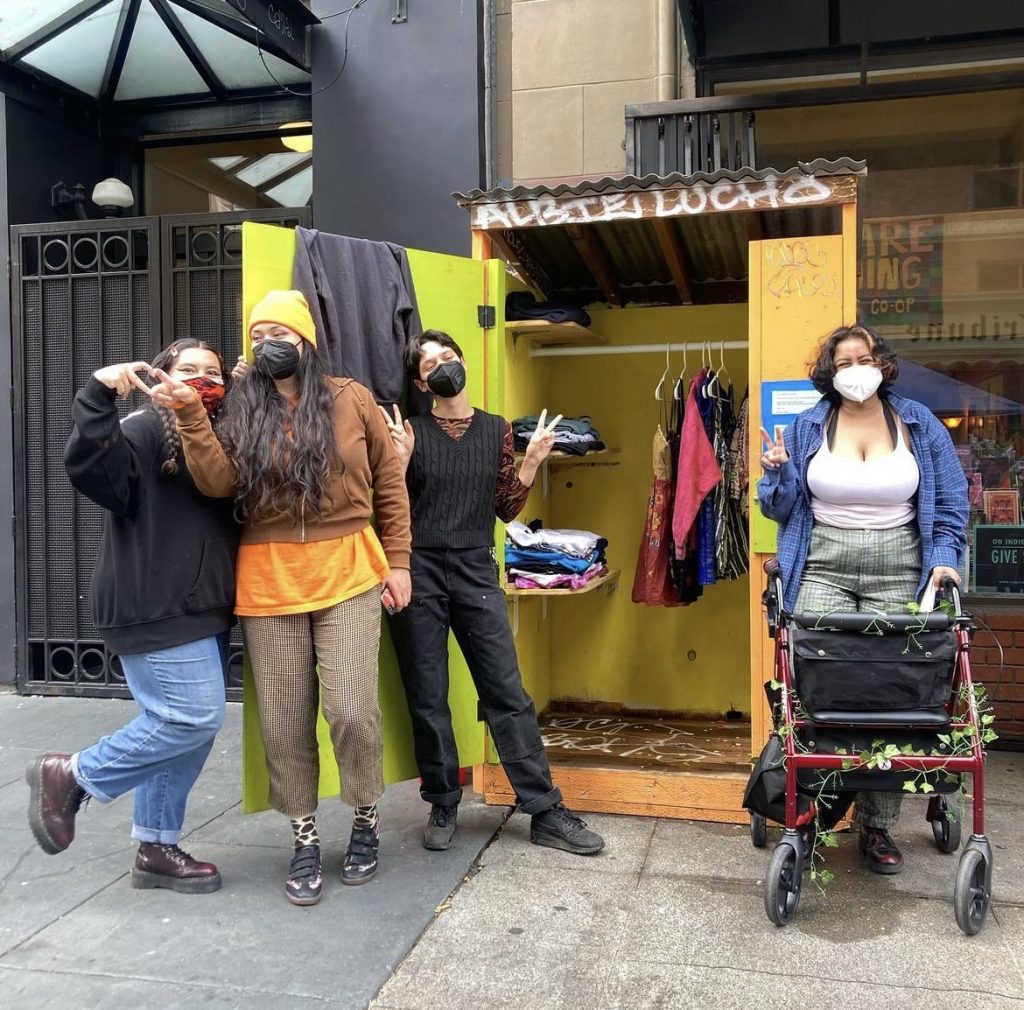 These unique models of collective and community-run space explore alternatives to a limited and exclusive art world and, in some cases, to the greater world itself. Oakland's collective spaces highlight the benefits of cooperative working, nonhierarchical and equitable structuring, and the inherent strength in community. Many galleries are following suit – working not only to support and sustain artists' careers but to make art spaces more welcoming and accessible. All work to reject the idea that art is saved for only those who can "understand it" and afford it – notions that are made even more dangerous by capitalism and white supremacy.
Because systems of power typically dislike being challenged, collectives and cooperatives are sometimes referred to as "low brow," juvenile or idealistic within the global art world context. I imagine this notion may come from a fear of losing control. If art is for everyone and everyone can make art, there is no longer a market for it. But if we replace exclusivity and wealth with inclusivity and access – we may find something far more valuable.
—————————————————————————————————————————-
Calder Anderson is an artist manager, writer, and consultant. She provides branding, marketing, strategy, and copywriting expertise to a wide range of clients mainly in the arts and non-profit sectors. She was formerly the Assistant Director at Hosfelt Gallery in San Francisco as well as holding positions at Pace Gallery. Calder has a Bachelor's Degree in Fine Art and Psychology from the University of California, Santa Cruz.
---
Image Credits:
Graphic "We Need Each Other" by Moments Cooperative and Community Space
Youth Workshop at Rock Paper Scissors Collective
Exhibition by Julianne Sterling and Elizabeth Sher at Mercury 20 Gallery
Image of two books "Becoming Abolitionist" and "Organize Fight Win;" Courtesy of Moments Cooperative and Community Space
Image of Community Pantry / Closet at Moments Cooperative and Community Space