By Mario Hernandez and Malcolm Ryder
Wolfe Pack Studios is an art and event space that serves as a hub of innovation and inspiration. Occupying a small, former storefront on what felt like an otherwise desolate part of 13th street in downtown Oakland. The warm vibe of the space caters to a range of creative expressions, as it serves as part art gallery, music and storytelling venue, comedy club and artist workshop space. And as Nastia Voynovskaya of KQED Arts & Culture has noted, it does so through an inclusive environment and clubhouse feel. As a self-described "Artist Social Club", Wolf Pack Studio has been in operation for a year now. And while the venue invokes the salons of the 19th century, the style and vibe capture the creative energy and spirit of the contemporary Oakland art scene.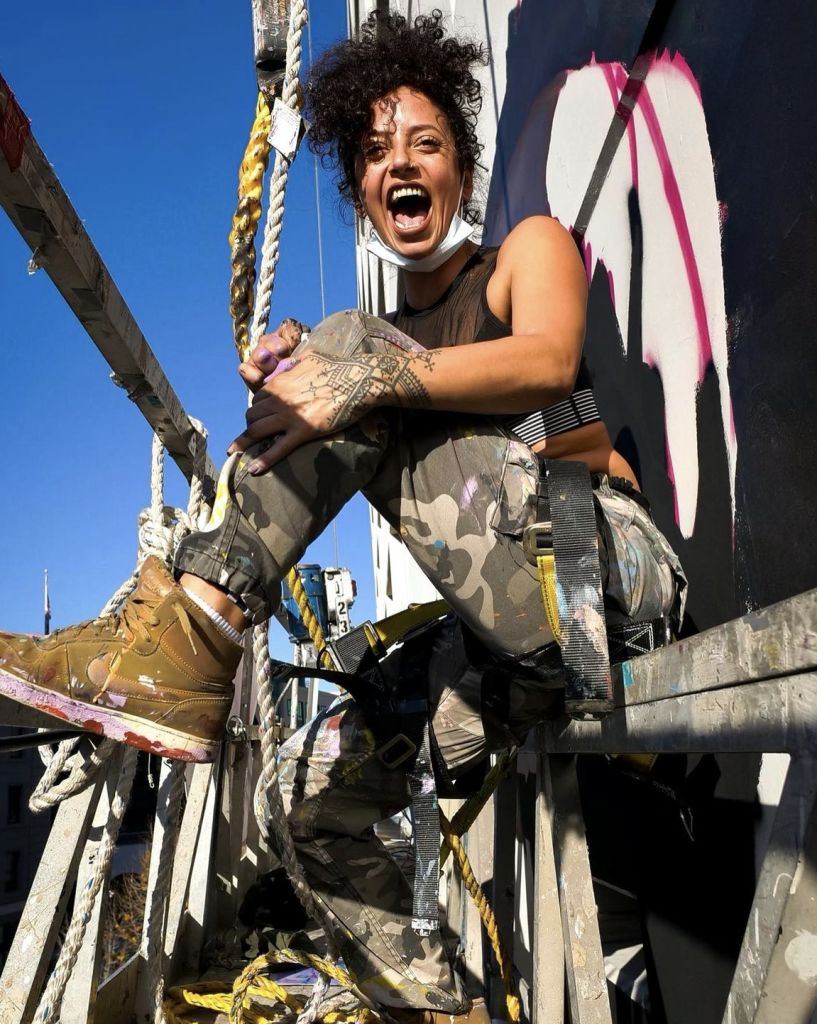 The driving force behind this space is Rachel Wolfe-Goldsmith, the self-described muralist, curator and creative director. Rachel is the founder of Wolfe Pack Arts and has created some of the most recognizable large-scale murals in Oakland, including Our Movement (2020), Our Liberation (2020), and The Women of the Black Panther Party. She is also the creative director of the Bay Area Mural Project (BAMP), where she met Langstyn Avery, who is her co-curator at Wolfe Pack Studios.
We attended the opening of the Wolfe-Pack Studios group art show, "Beyond Time". A collection of both photography and painting, the show describes each piece as a bridge, "connecting us to the unseen and the forgotten, and the yet to be discovered." The statement goes on, "through the lenses of these gifted Oakland creators, we find ourselves transported to landscapes both familiar and otherworldly, where the past whispers to the future, and the present is a mere pause in the endless flow of existence". As we sat with each piece for a time, and thought of them in relation to one another, the spirit of these words became increasingly apparent.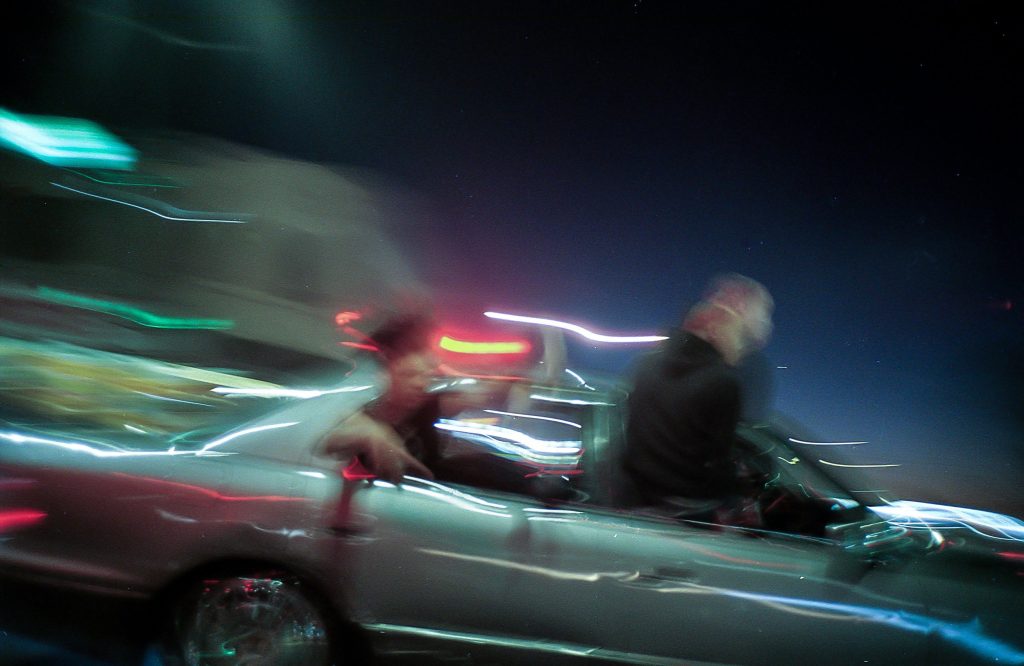 Such was the case with Devin Armstrong's "TownBiz" (2021), which depicts a photograph of a snapshot-like image of a fast pace of a moving car. The blur of the image captures the energy and frenetic pace of what seems to be the act of an iconic muscle car spinning donuts in the midst of a sideshow. Two passengers hang out of the window in full control of the pace and at one with the fast-moving automobile. The scene and glowing lights radiating off of them and the car, capture a moment in time, preserving the ephemeral thrill and delirious pace of the car in motion.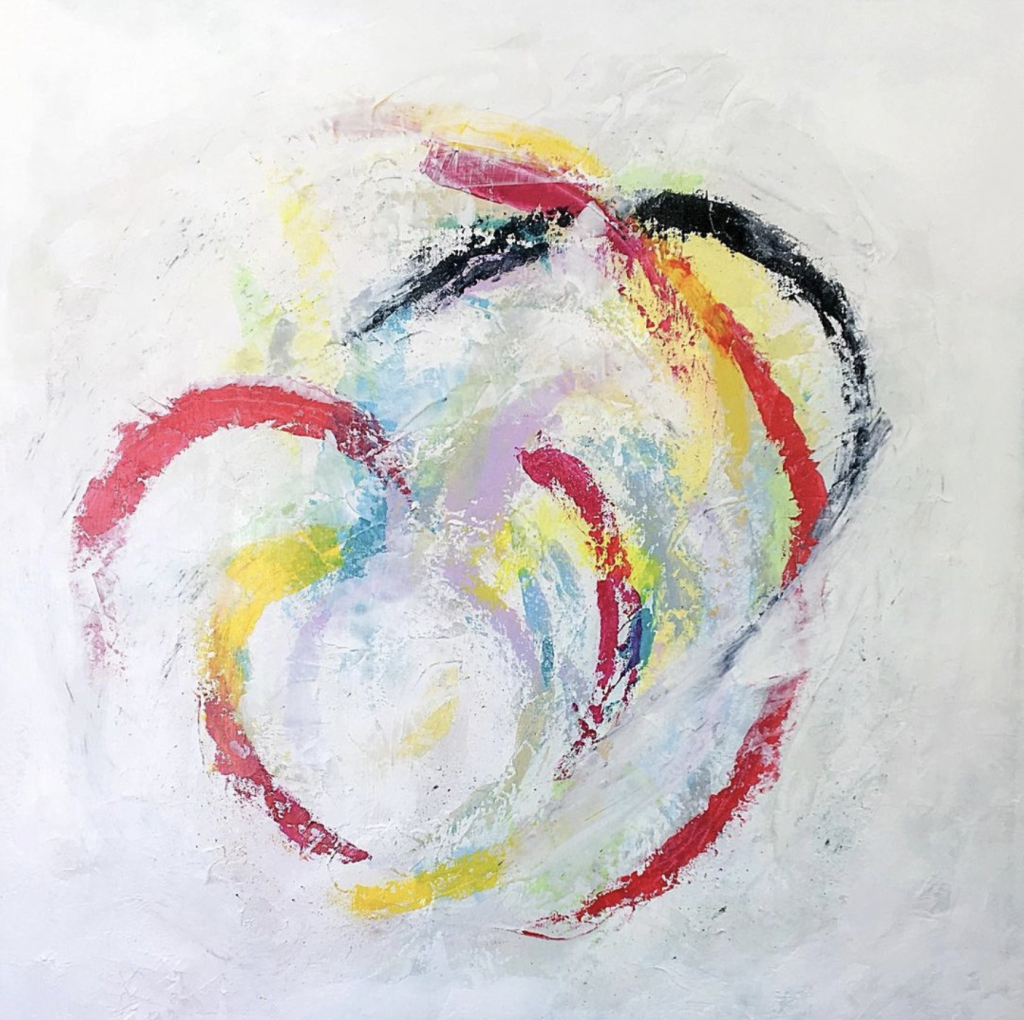 Juxtaposed against this image is abstract painting, "Le Bohemian Muse" (2019). A canvas of thick white blotches of paint, interspersed with circular streams of red, yellow, blue and black hues of color. Some of them are more pronounced than others, and often run on top of each other in sequential patterns, suggesting a passing sequence of time. The painting and photograph juxtaposed to one another seem to capture the tire marks left by the sideshow, an all too common imprint left on many of the intersections of Oakland's streets. The painting then, seems to preserve the tire marks of the photograph, as a moment encapsulated in time.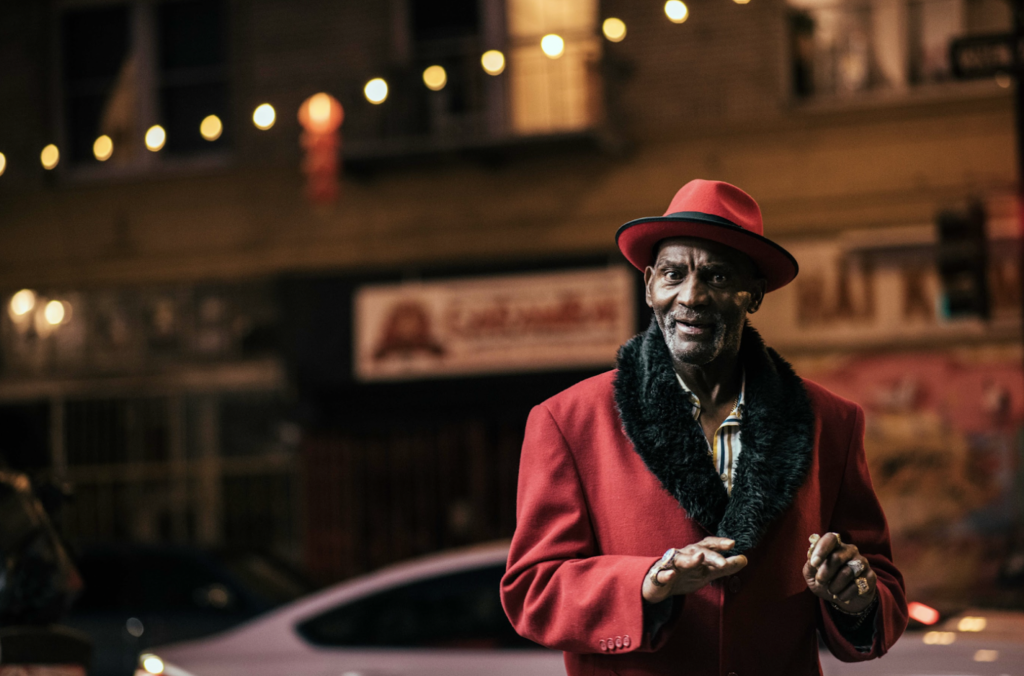 Another set of works, both by Mikie Schulz, "Ellis & Larkin" (2023) and "A Pimp Named Spanky Lee" (2023) are two photograph depictions of well dressed men, that can easily be set in an earlier era in Oakland's history. But the comfort and ease with which these men seem to navigate the contemporary milieu of the composition, along with their timeless sense of fashion, bare an unmistakable impression in the present. These men seem to act as a bridge between the past and present; and perhaps, hopefully, a past confidently projecting into the future.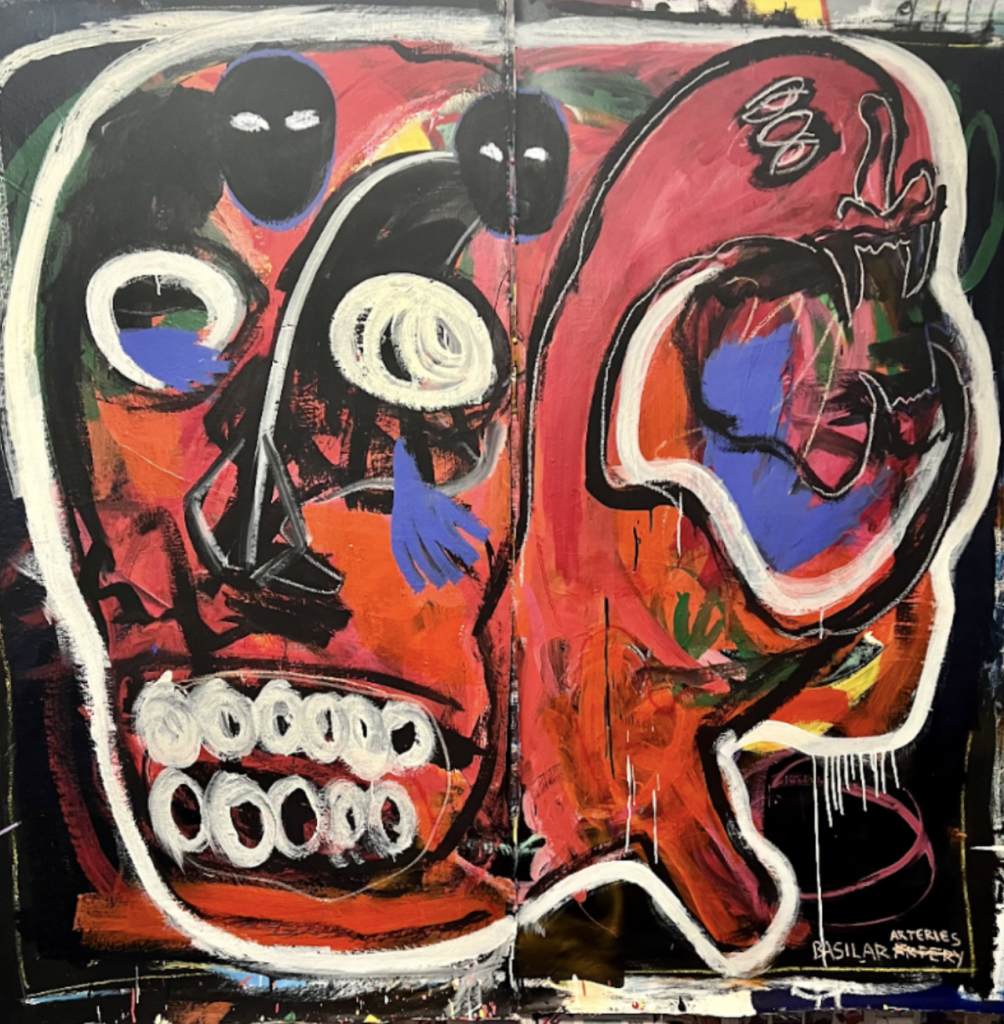 Symbols of meaning, nostalgia and tradition pierce through the show's works in various ways to reconfigure our sense of past, present and the future. Works such as Yizhong's "Untitled" (2021), Chontovious' "Ancestors Have Been Eating at My Brain" (2023), Najee Tobin's "A Glimpse of the Ancestors" (2023) and Devynn Barnes' "Into View" (2023), provoke a meditation on how we've come to conceptualize our present through a rediscovery of the past. The works allude to its lingering presence, in often, less than subtle terms, which of course, forces us to engage with how we often fail to comprehend the significance of the past in our contemporary and day-to-day lives. Others, such as Mila Moldenhawers's "Nights Pull" (2023) and Najee Tobin's "Surrender of Malleability" (2023) project a kind of future from current understandings of those pasts and our present experiences of them. And some, like Alexis Floyd's "Silk" (2023) invoke a kind of persistent, timelessness and eternal quality of being and experience.
In these ways, the "Beyond Time" show provokes the viewer to consider and reconsider the sequential order of time and the many layers of how it has come to organize our lives. Each work is an invention in its own right – a particular way that the artist found to make the connection through their visions of past, present and future. In juxtaposing them and considering the show as a whole, they invite a kind of reckoning of how we fashion our individual and collective identities.
___________________________________________________________
"Beyond Time" is currently on exhibition at Wolfe Pack Studios, 306 13th st. Oakland, CA from October 13th to December 13th, 2023. Please note that Wolfe Pack Studios will be closed for the month of November.
Mario Hernandez is an assistant professor and Fletcher Jones program chair of Sociology in the Department of Social and Historical Studies at Mills College at Northeastern University. Hernandez is an urban sociologist who specializes in the study of gentrification. His book, Bushwick's Bohemia: Art and Revitalization in Gentrifying Brooklyn, examines the proliferation of the creative art scene in the neighborhood of Bushwick in Brooklyn, New York within the context of neoliberal strategies of urban growth, including city branding. Dr. Hernandez's research examines the increasing importance of creative industries to urban economies and the vital role of artists and art scenes in this process. Hernandez is born and raised in the Bay Area, and currently resides in Oakland.
Malcolm Ryder, Oakland resident and artist, is a fine arts and commercial photographer and writer with 40 years experience in practice creating, teaching, and critiquing visual art as well as developing and managing arts organizations for visual artists. He is a graduate of Princeton University; a former programming developer and director at the NEA, NYSCA and NYFA; and former board member of arts non-profits in SF and Berkeley. His current art work, exhibiting in shows across the Bay Area since June 2022, is also published online at www.malcolmryder.com and at the home site of the multi-year collaborative art project Oaktown, at www.oaktown.pictures.
Images:
Image of Wolfe Pack Studios; Courtesy of Malcolm Ryder
Image of Rachel Wolfe-Goldsmith; Courtesy of Tone Oliver Productions and Rachel Wolfe-Goldsmith
TownBiz, 2021; Courtesy of Devin Armstrong
Revolutionary, 2019; Courtesy of Le Bohemian Muse
A Pimp Named Spankie Lee, 2023; Courtesy of Mikie Schulz
Ancestors have been eating at my brain, 2023; Courtesy of Chontovious