Self-Guided Art District Walks
Find art by local, national and international artists in eclectic neighborhoods throughout Oakland.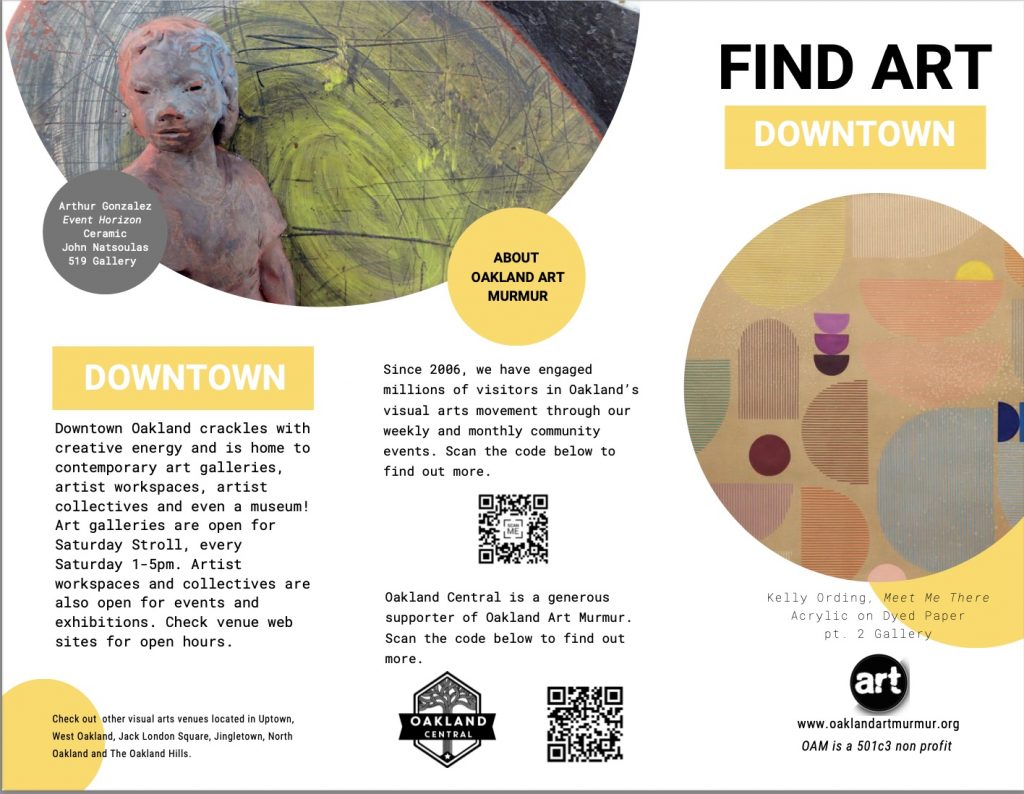 Self-Guided Mural Walk
Built Environment/Sculpture Walk
Second Saturday Art Walks
Free and family friendly art tours held on the second Saturday of every month. Led by OAM insiders, our tours take groups on a fun, informal exploration of various Oakland Arts Districts. You will be introduced to a small selection of art spaces handpicked by our friendly guides, and learn more about the artists, gallerists, and art professionals working behind the scenes. You may even find that perfect piece of art to take home! We will also curate mural and public art tours.

You'll find our upcoming tours listed on our Events Page and on Eventbrite.
Curated Art Walks for Groups
Let OAM curate a special visual arts experience for you and your friends, your team from work or your organization!

Led by OAM insiders, our art walks take groups on a fun, informal exploration of Oakland's arts districts and public art. Oakland has hundreds of artworks all around the city! This in-person tour will expose you to stunning sculptures and artwork outside of museums, in parks and on the facades of buildings throughout neighborhoods. New works are commissioned and added to the city's collection all the time in Oakland's giant outdoor art gallery! Let us know a little bit about your interests, organization and group size and OAM will take care of the rest!
Mural Walks For Groups
Led by local muralists, our mural walks weave through neighborhood streets on foot and take groups on a fun, informal and educational exploration of Oakland's outdoor art gallery, our murals! Oakland's murals, created by emerging and experienced muralists and mural collectives, create art that transforms our city. You'll be inspired by the incredible public art, get behind-the-scenes look at mural creation, learn about the mural-making processes and hear the in-depth stories about the people and communities that inspired and shaped each mural.
The largest concentration of walkable murals are located in Uptown and Downtown neighborhoods in Oakland. Other neighborhoods may be available based on guide availability.
All private walks are available at a flat rate of $300 for groups of up to ten (10) people.  Children under ten (10) years of age will be charged $10 per child. Larger groups, over 10 people, will be charged an additional $30 per person. Most tours are 1 – 2 hours in length. We must receive your request a minimum of two weeks prior to your desired date. The best days to schedule your tour are Fridays and Saturdays. We do not conduct walks on Sundays.
Multiple groups may be accommodated based on docent availability. Contact us to discuss your request.