Slate Contemporary, History and Romance – Exhibition
January 6 @ 12:00 pm

-

February 26 @ 5:00 pm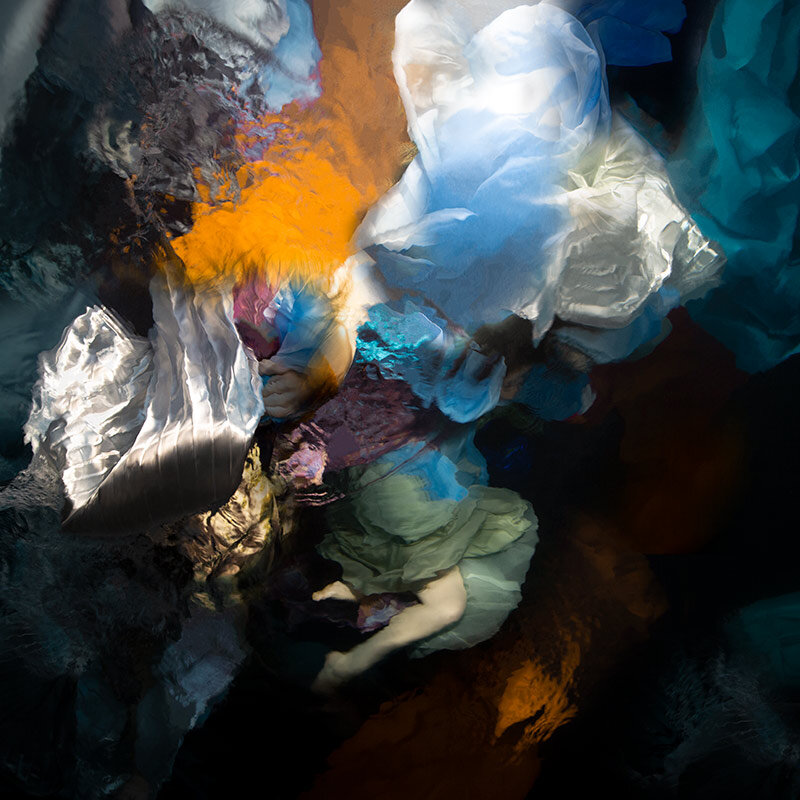 History & Romance, on view at SLATE contemporary from January 6 through February 28, presents three contemporary artists, Carol Inez Charney, Christy Lee Rogers, and Carlos Gamez de Francisco, who use historical painting as a jumping off point for creating contemporary photography that inspires awe and wonder. Through a mastery of their medium, these three artists ask us to take closer look at the historical and romanticized images embedded in our cultural consciousness, while questioning what art is, and how we as viewers, experience it.
Join us for the Opening Reception on First Friday, January 6, from 6–8pm.
ABOUT THE ARTISTS
In her After Painting series, Carol Inez Charney has turned to old master paintings for her subjects, appropriating them and then re-presenting them through her own personal lens of liquid moving on glass. The droplets and flowing medium create passages where all the colors seem to blend, not unlike paint dripping on a modern abstract canvas. This series is, on the one hand, an homage to the western history of art, to its recognized masters, and to their influence on Charney as an artist. But it is also a protest against how, in an image-saturated world, our attention-spans have been shortened so much that the act of looking has been compressed to mere recognition. In this body of work, because the source imagery has been obscured and abstracted, our attention is forced to narrow and engage with what is in front of us in an effort to see. In her Secondhand Smoke series, Charney looks to literature, photographing smoke as a metaphor to represent both historical and modern books that have been banned, are being recommended for banning, or have been burned. The colors shading different strands of smoke evoke individual characters from the stories, showing how their narratives twist and intertwine. These sultry works carry dangerous undertones, commenting on current conditions in our political climate.
Like a magician, photographer Christy Lee Rogers sets her scene, using multiple figures, elaborate costumes, and dramatic lighting that reference 16th and 17th century Mannerist and Baroque paintings, all performed in a magical underwater netherworld. Rogers' process is close to cinematic film production in its complexity and focus on capturing moving action. Like film and theater, her scenarios are highly staged, but they also document a performance that is taking place under extreme conditions, with limited air, time, visibility, and control. All this is done in the service of creating a photograph that captures the sense of freedom, joy, and tragedy that defines us as humans. Roger's states, "What I want more than ever is to express and inspire hope and freedom, a sense of wonder and tranquility, to create a safe place to dream wildly, and most importantly to inspire the idea that there are still mysterious, impossibly beautiful things on Earth—not solely in our imaginations."
Carlos Gamez de Francisco grew up in post-revolutionary Cuba and was educated in a rigorous academic style that influences his artistic practice to this day. Interested in history and the questionable veracity of stories that exist in our memories, he creates his own contemporary-historical narratives. In his series The Power of the Powerless, the work features a younger generation of Cubans, adorned in costumes assembled entirely from clothing, textiles, and every-day objects such as drapes, kitchen scrubbers, and plastic bags, found in their own homes. Gamez de Francisco says his intent is to show the models in positions of power and pride, but ironic undertones persist, with symbols of high and low culture, past and present, interweaving to create a world full of beauty and poetry that appears circumscribed while operating free of rules. In his latest photographic series, Knowledge Destroys Fear, Gamez de Francisco chose to take portraits of young influencers and activists in Cuba who have used social media as a tool to give access to information and to create a voice for protestors in recent years of civil unrest. In his portrait titled Growing Roses, he references a poem written by José Julián Martí Pérez, with a simple yet powerful message of cultivating unconditional love and friendship.
Details
Start:

January 6 @ 12:00 pm

End:

February 26 @ 5:00 pm

Series:

Event Category:

Event Tags:

Website:
Organizer
Phone:

5106524085

Email:

info@slateart.net
Venue
473 25th Street




Oakland

,

94612

United States

+ Google Map

Phone:

510-652-4085